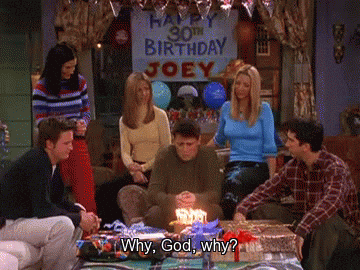 Guess whose 20?
Hi everyone and welcome to my birthday post! I'm finally 20 and I had to do something to mark the day on my blog naturally, so I found this tag over at Shanah@BionicBookWorm's lovely blog. I hope you don't mind me taking part in this fun tag too!
Before the tag however, it's time for the announcement! As some of you might know, I started my blog The Mundane Teenage Life at the age of 18 and a half. I started the blog completely on a whim without giving a second though to the title, so I didn't really think it'd last longer then 1.5 years i.e. when I turn 20.
Now that I'm 20 and no longer a teenager, it's time for a change so you will notice a couple of changes in the blog. My blog is now "My Mundane Life".
I briefly considered changing the title but I think I like this just fine. The blog has come a long way with me and I don't want there to be any major changes.
There have also been a few changes with the theme and palette but don't let that confuse you! I'm still me, just a year older!
That being said, whew I'm 20! I should feel older right? I still feel like a 12 year old compared to my friends and I honestly don't even know if that's good or bad anymore.
Now enough with the chit-chat, it's time for the Birthday Book Tag!
BIRTHDAY CAKE
A book with a plot that seems cliche but you adore it anyway
Percy Jackson and the Lightning Thief by Rick Riordan
I feel like I should've outgrown Rick Riordan's books by now but I still haven't. Even though quite a few of the story lines are cliche and they're middle grade, I simply love all of the series' that he's written, especially Percy Jackson
---
PARTY GUESTS
Your most anticipated release of the year
The Lady's Guide to Petticoats and Piracy by Mackenzie Lee
CANNOT WAIT. I love Felicity!
---
BIRTHDAY PRESENTS
A book that surprised you with how much you loved it
Workman's Complication by Rich Leder
I received Workman's Complication through a review request and not all of those turn out great, but Workman's Complication was simply fantastic. You can check out my review for it here.
---
THE HAPPY BIRTHDAY SONG
A book that certainly deserved all the hype it got
The Gentleman's Guide to Vice and Virtue by Mackenzie Lee
OH MY GOD YOU GUYS I LOVED THIS BOOK SO MUCH! LIKE SO SO VERY MUCH! It definitely deserved all the hype it got.
---
HAPPY MUSIC
A book with some very truly beautiful and memorable quotes
The Fault in Our Stars by John Green
Despite all the hype, and subsequent criticism that this book has gotten, I have to admit that it has some great quotes. A few of my favorites –
"Sometimes, you read a book and it fills you with this weird evangelical zeal, and you become convinced that the shattered world will never be put back together unless and until all living humans read the book."

"There are infinite numbers between 0 and 1. There's .1 and .12 and .112 and an infinite collection of others. Of course, there is a bigger infinite set of numbers between 0 and 2, or between 0 and a million. Some infinities are bigger than other infinities. A writer we used to like taught us that. There are days, many of them, when I resent the size of my unbounded set. I want more numbers than I'm likely to get, and God, I want more numbers for Augustus Waters than he got. But, Gus, my love, I cannot tell you how thankful I am for our little infinity. I wouldn't trade it for the world. You gave me a forever within the numbered days, and I'm grateful."
---
GETTING OLDER
A book that you read a long time ago, but you think that you would appreciate it more if you read it as a more mature reader
The Book Thief by Markus Zusak
I read the Book Thief when I was 14 or 15, and even though I loved it and found it really emotional, I felt like I would've appreciated it much more if I'd read it later on in life.
---
SWEET BIRTHDAY MEMORIES
A book that kept you incredibly happy during a sad or demanding period of your life
A Gentleman's Guide to Vice and Virtue by Mackenzie Lee
This book is just so sweet and funny and it kept me happy when I wasn't feeling too well.
And that's all for today! Hope you have a great day! Until next time –