Nine-Nine is back! YAY!
Hi everyone! To mark the return of one of my favorite shows i.e. Brooklyn Nine-Nine, I found this amazing book tag! Thank god the show got renewed for Season 6 because it is DA BOMB!
I've already watched the first episode and I can't wait for the rest! I've missed Jake and the gang so much! Now on to the tag –
Jake Peralta: A Character Who Loves To Be Hero
The Infernal Devices by Cassandra Clare
I would have to go with one of my top all time fictional crushes, Will Herondale. All the Herondale boys just love being the hero. It's lucky they're good at it.
---
Amy Santiago: A Character That Empowers You
Shades of Magic by V.E. Schwab
Delilah Bard! A cross-dressing pickpocket/aspiring pirate with the greatest penchant for sarcasm and magic? Lila is freaking awesome!
---
Captain Holt: An Amazing Diverse Character That Breaks Stereotypes
Aristotle and Dante Discover the Secrets of the Universe by Benjamin Alire Saenz
I loved the characters of Ari and Dante. They were unique and endearing and quite different from the characters I'm accustomed to.
---
Rosa Diaz: A Bad-ass Female Character Who You'd Hate To Mess With
Six of Crows by Leigh Bardugo
I definitely would not want to mess with Inej Ghafa. EVER. She is totally badass.
---
Charles Boyle: An Awkward But Oh-So-Loveable Character
The Mortal Instruments by Cassandra Clare
Simon Lewis is the most adorable and goofy character ever. He is just so CUTE.
---
Terry Jeffords: The Big Guy That Looks Tough With A Soft Heart
Artemis Fowl by Eoin Colfer
Domovoi Butler! Although Butler was the scariest character in the book and trained in all sorts of martial arts, he was such a softy when it came to taking care of Artemis!
---
Gina Linetti: A Book Or Series On Your TBR That Has A Massive Fanbase
A Court of Thorns and Roses by Sarah J. Maas
I have been meaning to read this series for over 2 years now but somehow still haven't gotten round to it! It's just never the right time, but I have heard so many people gush about it. I definitely need to give it a shot this year!
---
Hitchcock And Scully: An Iconic Fictional Duo
The Infernal Devices by Cassandra Clare
Definitely Will and Jem. They are best friend/parabatai GOALS!
---
Adrian Pimento: A Loose Cannon Of A Character
Six of Crows by Leigh Bardugo
Kaz Brekker is definitely somewhat of a Loose Cannon for someone so calm and collected.
---
The Vulture: The Antagonist That Steals The Show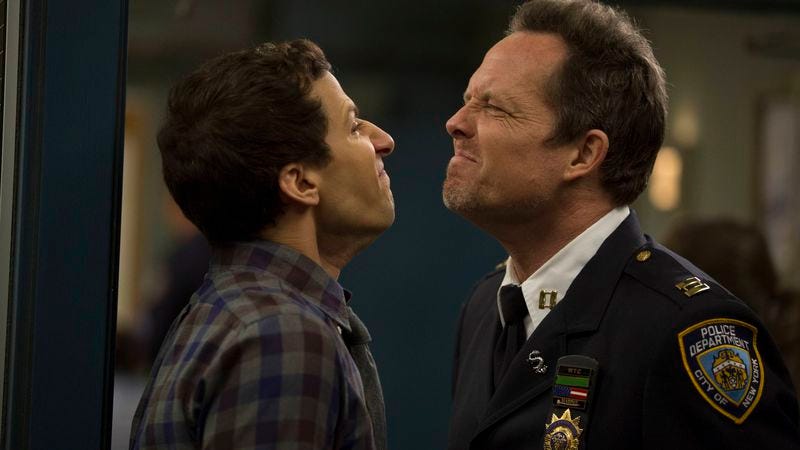 I can't actually think of anyone right now, but haha I love the Vulture's character. More accurately, I guess I love hating him.
---
The Pontiac Bandit: The Antagonist You Can't Help But Love
Red Queen by Victoria Aveyard
I can't help but love Maven Calore. I was rooting for him way more than Cal. Maven stole my heart in the first book itself and I could almost feel it breaking along with Mare.
---
And that's all for today! If you enjoyed reading my answers and would like to take part too, please do consider yourself tagged! Just link back to this post so I can read your answers too. Hope you have a great day! Until next time –